Photo by Barrie Wilkinson
Wildflower meadows are an extremely important habitat, supporting a diverse range of species. However, they have declined rapidly over the past few decades, especially in urban areas.
This rapid 97% decline in the UK, since the 1930s, has largely been due to the intensification of agriculture, with increased field drainage and herbicide use, as well as urbanization.
In turn, this has caused a huge decline in biological diversity as wildflower meadows have the ability to support a wide range of species, by offering such a diverse and attractive habitat.
Wildflower meadows are also extremely beneficial as they are sustainable landscapes. An established meadow is resistant to weed invasions and has a greatly reduced need for maintenance. Displaying the benefit of having wildflower meadows in an urban area, offering an attractive, diverse area to enjoy and introducing mental health benefits to the local community.
In wildflower meadow creation, the wildflowers introduced will consist of native plants, providing important habitat for wildlife.

Tall vegetation will create resting areas, benefiting insects such as spiders and ladybirds, which help control pests. Amphibians also benefit as tall vegetation provides cover and damp areas created will give them sections to forage in.
Wildflowers also provide an excellent food source for some species. With some birds eating the seeds produced and others eating insects and caterpillars living on the flowers. This habitat also provides nesting material for birds and supports small mammals by providing cover, food and nesting material.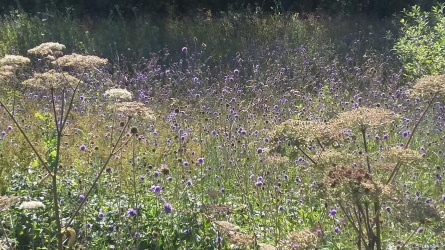 Wildflower plants, Devil's bit Scabious and Wild Angelica, benefiting native insects and species.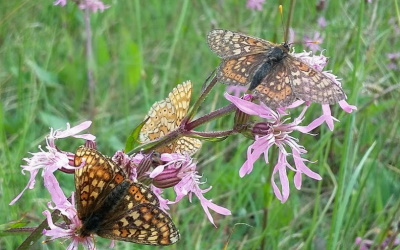 Marsh Fritillary butterflies, supported by the introduction of wildflowers such as Ragged Robin pictured.


The colour and scent of nectar rich wildflowers help support native pollinators like butterflies, moths and bumblebees. They provide support through the multiple stages of their life cycle, providing food and egg laying habitat for caterpillars, and flowering plants for butterflies.

Habitat for pollinators is very important, with approximately 76% of all resident and regular migrant butterflies declining in the UK in abundance, occurrence, or both, over the past four decades.
The introduction of wildflower plants is proven to increase the abundance of pollinators. With butterflies being more abundant and higher in species diversity in areas sowed with wildflower seed and with flowers of key nectar source species, than unsown areas.

The Riseholme Project
Lincolnshire University and Lincolnshire Wildlife Trust are working in partnership on an exciting initiative involving collecting local wildflower seeds and growing them at Riseholme Campus.
This amazing initiative introduces wildflowers into public spaces, enhancing community areas and increasing native wildlife.
Some of the native species grown at Riseholme seed bank will be given to the Witham/Slea Blue Green Corridor Project to be planted, with the help of volunteers, in our future wildflower meadows. Including Queen Elizabeth Park, Sedgwick Meadows and Dysart Park to ensure local native species establish and flourish.
Click here to learn more about the Riseholme Project
Witham/Slea Blue Green Corridor Wildflower Meadow Creation Projects